Certification 2019
SHRM Certification:
Advance Yourself, Advance Your Organization!
---
The HR profession is no longer just about what you know, but rather how you effectively implement that knowledge in the workplace each and every day. The SHRM-CP and SHRM-SCP credentials are state-of-the-art certifications offered by SHRM, the world's largest HR membership organization and the industry leader in HR professional development.
SHRM certifications directly link to on-the-job scenarios and realistic work situations, making them the most relevant certifications available for HR professionals. Built upon one comprehensive SHRM Body of Competency and Knowledge (BoCK), SHRM certification is applicable across industries, geographic borders, job responsibilities and career levels. The SHRM-CP and SHRM-SCP credentials are based on the current HR landscape, focusing on the competencies and knowledge HR professionals need to lead in today's business community. The SHRM-CP and SHRM-SCP credentials reflect what HR practitioners need to know to be leaders in their organizations and in the profession, and the exams are accredited by The Buros Center for Testing.
---
Get the SHRM Certification App!

https://www.youtube.com/watch?v=i-q0WH0WEVo

The SHRM Certification App allows you to:

Easily add your PDCs under the Advance Your Education section.
Track all the activities you have already added to your record.
Search and filter approved activities by competency, date and location.
Discover upcoming activities in your area.
Find out when you're ready to apply for recertification!

Search for "SHRM Certification" in the App Store, or visit shrmcertification.org/app to download.
Download the SHRM Body of Competency & Knowledge (SHRM BoCK)
shrmcertification.org/SHRM-BoCK
Download the SHRM Certification Handbook
www.shrmcertification.org/certificationhandbook
---
Certification
Prepare for the SHRM Certification Exam:
https://lp.shrm.org/SHRMCertificationPracticeQuestions.html
SHRM Learning System:
Professional Eligibility Requirements:
https://www.shrm.org/certification/apply/EligibilityCriteria/Pages/default.aspx

Student Eligibility Requirements:
https://www.shrm.org/certification/apply/EligibilityCriteria/Pages/student-shrm-cp-eligibility.aspx
Exam Windows and Fees:
https://www.shrm.org/certification/apply/Pages/applicationprocess.aspx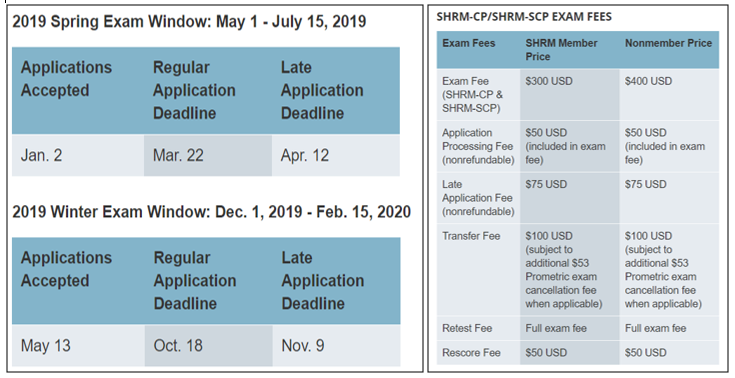 SHRM Foundation Certification Scholarships:
https://www.shrm.org/foundation/ourwork/scholarships/certification/pages/default.aspx

Maintaining SHRM Certification: https://www.youtube.com/watch?v=Y8ZQ72Is5Fw
SHRM Recertification Auto-Fill Feature
PDCs earned by SHRM members will be automatically uploaded to their recertification portal
SHRM Conferences
SHRM Seminars
SHRM eLearning sessions
SHRM membership is also now being auto uploaded
Questions? (703) 535-6080 or recertification@shrm.org